8th Day (an American Hasidic pop rock) to preform!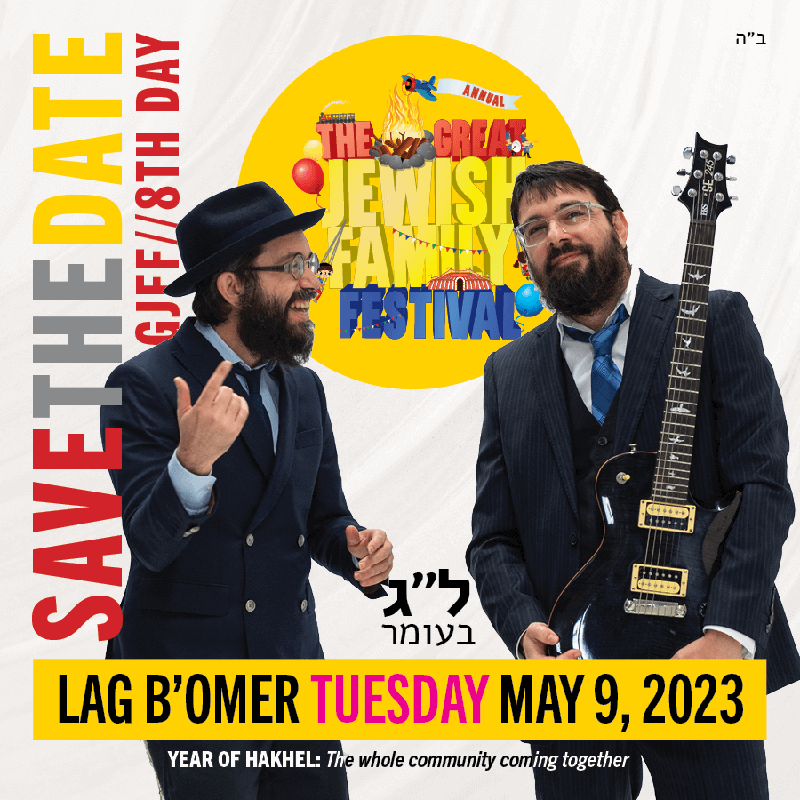 Lubavitch Chabad of Illinois is sponsoring a community-wide celebration at Oakton Park in Skokie on Tuesday, May 9. The event, open to the public, will mark the observance of the Jewish holiday of Lag BaOmer, traditionally commemorated by large outdoor celebrations and bonfires, which harbor spiritual significance.
The event will focus on Jewish unity and pride, core values emphasized by Rabbi Shimon Bar Yochai, known as the "Rashbi," the Jewish leader whose life and teachings are celebrated on Lag BaOmer. Those teachings have added significance this year as Jewish communities worldwide celebrate the Jewish Year of Hakhel or "Gathering," marked with Jewish gatherings focused on unity, Torah learning and practice.
"Lag Baomer is a time to focus on living proudly as a Jew, and remembering that our unity is what makes us strong" said said Rabbi Yosef Moscowitz, executive director of  Lubavitch Chabad of Illinois. "It's a message that is emphasized all the more during Hakhel, as we focus on Jewish unity throughout the year."
Join communities from all around Chicago will join to celebrate with fun and entertainment for all ages, including an amazing 8th Day Band live concert, all-you-can-eat BBQ, street performers, face painting, caricature artists, balloon twisting and more.
8th Day is one of the most sought after music acts these days. With their latest hit album "Lucky", the group has now released nine studio albums. Their music has been featured on radio stations all over the United States and they have been top sellers on the Alternative Rock, World Music, Reggae and Jewish Music charts for the last decade.
"We are excitedly looking forward to this year's Lag BaOmer celebration" said Rabbi Yosef Moscowitz. "We have come a long way since our first event in Chicago 1978 on the behest of the Lubavitcher Rebbe o.b.m.
Lubavitch Chabad, the largest Jewish outreach organization in the world, is hosting thousands of similar Lag BaOmer celebrations in cities across the globe. The celebrations all share a common theme: Jewish Unity. Historically, the holiday of Lag BaOmer was celebrated by going out to the fields for introspection and celebration. The Lubavitcher Rebbe—Rabbi Menachem M. Schneerson, of righteous memory, considered the most influential rabbi in modern history— initiated the Lag BaOmer parade as a display of Jewish pride and unity. Since then, hundreds of thousands take part in parades and outdoor celebrations each year.
###
What: Great Jewish Family Fest
Where: Oakton Park Skokie
When: Tuesday, May 9, 2023 4:30pm – 7:30pm
Cost: $20 in advance, $25 at the door, all inclusive
More information: JewishFamilyFest.com
ABOUT LAG BAOMER
Lag BaOmer—this year, May 9, 2023—is a festive day on the Jewish calendar, celebrating the anniversary of the passing of the great sage and mystic Rabbi Shimon bar Yochai, author of the Zohar, the foundation work of the Kabbalah. It also commemorates another event. In the weeks between Passover and Shavuot, a plague raged amongst the disciples of the great sage Rabbi
Подпишитесь на ежедневный дайджест от «Континента»
Эта рассылка с самыми интересными материалами с нашего сайта. Она приходит к вам на e-mail каждый день по утрам.