The Underwater Bubble Show
Snow Cannons       Soap Bubble Tornadoes
Theatrical Fog         Smoke-Filled Soap Bubble Machines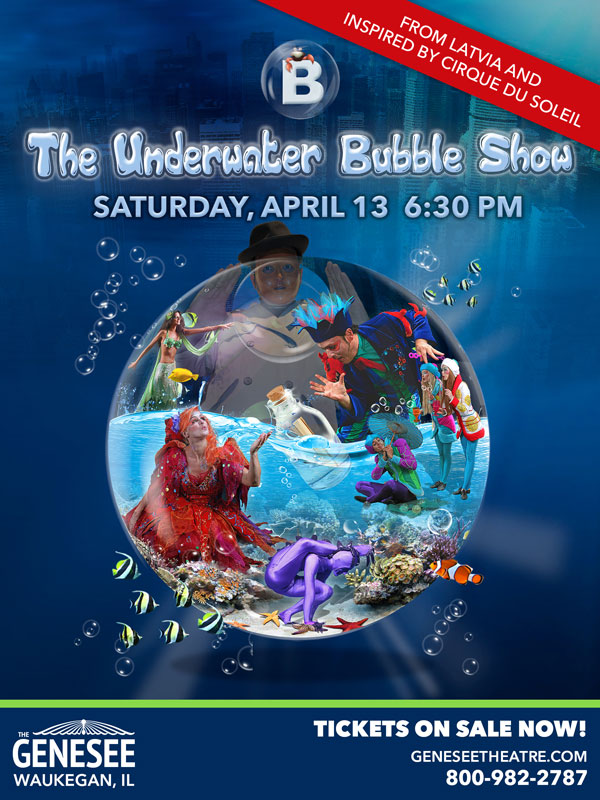 From Latvia comes The Underwater Bubble Show, a delightful modern fairytale featuring amazing acrobats, jugglers, mimes, contortionists and best of all, millions of bubbles!
You'll be transported to a colorful, happy place called Bubblelandia, where you're invited to daydream, think and marvel at some of the most visually stunning imagery and feats. Sea creatures come to life as you follow along on this imaginary journey through this beautiful underwater world.
Inspired by the famous Cirque du Soleil, this interactive presentation is enhanced with an original score, specially-designed costumes and stunning makeup. It's a colorful spectacle that will saturate your senses.
With no spoken dialogue, the different levels of interpretation will make adults think and children smile.
Ticket Information
Tickets are $26.50 or $33.75 for children 12 years and under.
Tickets are $30.50 or $37.50 for adults 13 years and older.
Service charges may apply. Tickets are available by visiting the Genesee Theatre Box Office, Ticketmaster.com & Ticketmaster charge by phone at 800-982-2787.
Polina Sashina