IN ITS FIRST-EVER CHICAGO VISIT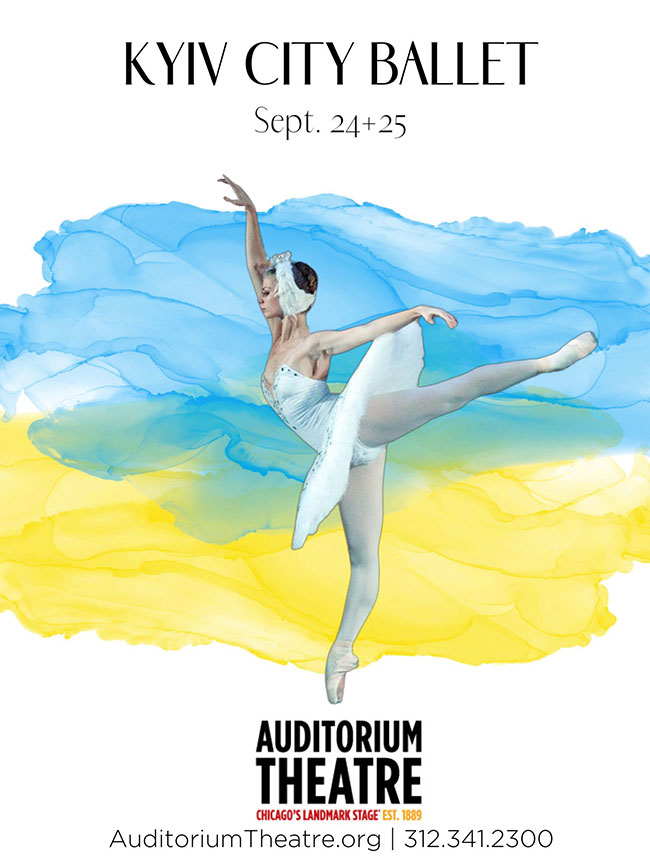 BALLET COMPANY SHOWCASES RESILIENCE & ARTISTRY
IN TWO PERFORMANCES ONLY, SEPTEMBER 24 & 25, 2022
 This rare engagement opens the Auditorium Theatre's 2022-23 Season.
Timely new work, Tribute to Peace, among trio of works to be performed.
The Auditorium Theatre proudly launches its 2022-23 Season with the Chicago debut of the Kyiv City Ballet of Ukraine in two powerful performances only, Saturday, September 24 at 7:30pm and Sunday, September 25 at 3pm.
The day before Ukraine was invaded in February, the Kyiv City Ballet unknowingly took one of the last flights out of Kyiv. The company flew to Paris to begin a long-planned tour and has not returned home since. Kyiv City Ballet starts its first-ever tour of the United States on September 16 in advance of this rare Chicago visit; the company will be performing in only 12 markets this fall.  Under the direction of Kyiv City Ballet Artistic Director Ivan Kozlov, the company will perform a mixed repertoire here including Tribute to Peace, created by Kozlov and the company's deputy director, Ekaterina Kozlova, especially for the U.S. 2022 tour, to a score by Edward Elgar.
Kyiv City Ballet will perform a mixed rep trio in Chicago:
Thoughts, a contemporary work examining the meaning of human thought, as choreographed by company member Vladyslav Dobshynskyi, to a score by Nils Frahm, Burkhard Dallwitz, Max Richter, and Lisa Gerrard & Patrick Cassidy.
Tribute to Peace created by Ivan Kozlov and the company's deputy director, Ekaterina Kozlova, especially for the U.S. 2022 tour, to a score by Edward Elgar, that explores what life should be without conflict, anger, or despair.
Classical Suite showcases the wedding pas de deux from three classical ballets, all set to scores by Ludwig Minkus, yet written in different styles: Paquita, La Bayadere, and Don Quixote. Choreographed by Kozlov (after Marius Petipa), Classical Suite is performed by the principal dancers of Kyiv City Ballet and gives the audience a look at exquisite classical ballet to conclude the program.
 Please note program subject to change.
Kyiv City Ballet ticket buyers are invited to support the Ukrainian war relief via donation to the Chicago-based Operation White Stork, a veteran-led, rapid response, humanitarian organization that takes its name from the national bird of Ukraine. Among its valued services, Operation White Stork evacuates women and children, the elderly, and their pets; provides free temporary housing to evacuees; provides individual first aid kits and personal protective equipment to defense and humanitarian forces; and helps repatriate displaced Ukrainians across Europe back into Ukraine. For more information on White Stork, visit operationwhitestork.org
"We are excited to share the beauty of this ballet with the City of Chicago," said Kyiv City Ballet Artistic Director Ivan Kozlov. "This first United States tour of the Kyiv City Ballet with a range of ballets makes an important global statement. It demonstrates the resilience of the Ukrainian people."
The Kyiv City Ballet U.S. tour, including the Auditorium Theatre engagement, is produced by Rhizome Consulting.
Purchase tickets HERE.
Подпишитесь на ежедневный дайджест от «Континента»
Эта рассылка с самыми интересными материалами с нашего сайта. Она приходит к вам на e-mail каждый день по утрам.