ANNA NETREBKO IN RECITAL Sunday, December 2, 2018 at 3pm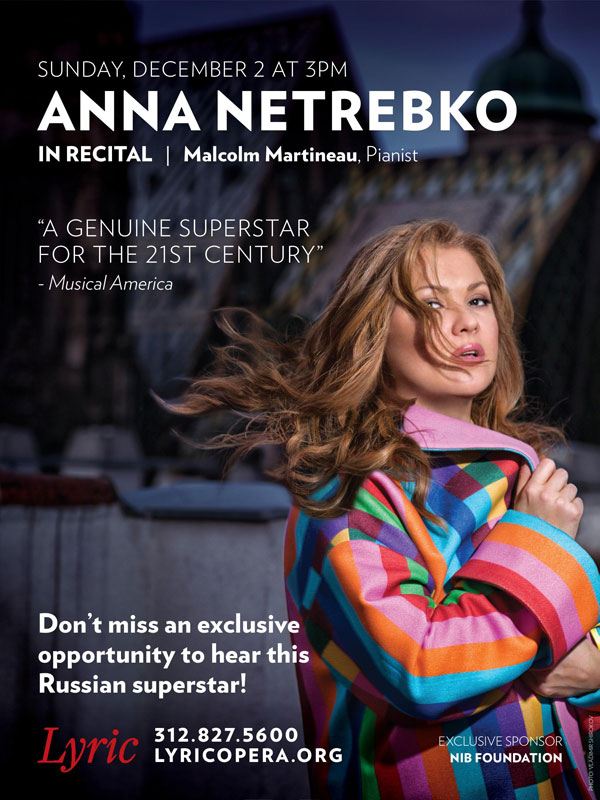 ANNA NETREBKO IN RECITAL Sunday, December 2, 2018 at 3pm
Malcolm Martineau, Pianist
Assisting artists:
Robert Hanford, violin
Featuring music by Debussy, Dvořák, Fauré, Rachmaninoff, Rimsky-Korsakov, Richard Strauss, and Tchaikovsky. Program subject to change.
Her dazzling star power has lit up the world's most prestigious stages. She's been featured in Time magazine's annual list of the 100 most influential people, and Musical America has called her "a genuine superstar for the 21st century."
In 2018, there's only one place in Chicago to experience the sumptuous voice of international star soprano Anna Netrebko. She comes to Lyric for a rare recital, offering audiences the opportunity to hear her in some of her favorite repertoire, accompanied by esteemed pianist Malcolm Martineau.
Don't miss this exclusive opportunity to hear one of the greatest voices of our time.
Tickets and Info available HERE