Anna Netrebko in Recital: Day and Night
Lyric Opera House, 20 N. Wacker Dr., Chicago
Sunday, December 2 at 3:00pm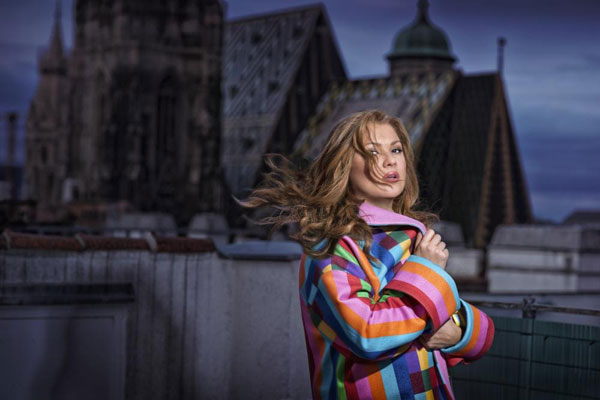 CHICAGO (11/13/2018) – Musical America has called her "a genuine superstar for the 21st century." Now, for one afternoon, Anna Netrebko will appear at Lyric for a memorable recital.
An artist like no other: Hailed as "the reigning new diva" by The Associated Press, Russian soprano Anna Netrebko has captivated audiences worldwide with her gorgeous voice and charismatic stage presence. Ever since her operatic debut at the age of 22 with the Russian Mariinsky Theatre, Netrebko has experienced a meteoric rise to stardom. She is a favorite and frequent artist at the Metropolitan Opera, and it is easy to see why.
A much-anticipated return to Lyric — and to Chicago! Anna Netrebko's previous (and only!) appearance in Chicago was as the tragic heroine Mimì in Lyric Opera's 2013 presentation of La bohème. Chicago has been clamoring for her return ever since!
A rare opportunity: Netrebko will give just two recitals in North America this year, one at the Lyric Opera House, and one at Carnegie Hall.
Her seven-city international tour just started November 11 in Graz, Austria, with upcoming appearances in Prague and at St. Petersburg's Mariinsky Theatre before the U.S. performances in December. Next July there will be additional recital performances in Baden-Baden and Munich.
The brand-new recital program encompasses contrasting themes of "Day and Night": The works of Russian, French, German, English, and American composers are featured in a wide-ranging program showcasing Netrebko's unparalleled talents. The New York Times has praised Netrebko especially for her passionate renditions of Russian repertoire: "The songs by Rachmaninoff, Rimsky-Korsakov and Tchaikovsky that Ms. Netrebko sang were drawn from the genre of emotional, intense Russian romances…Ms. Netrebko was in her element." Songs by these composers, along with works by Bridge, Charpentier, Debussy, Dvořák, Fauré, Leoncavallo, D. Moore, Offenbach, and  R. Strauss, are scheduled for Netrebko's recital at Lyric.
Harmonious musical collaboration: Anna Netrebko will perform with esteemed pianist Malcolm Martineau. The duo have earned accolades for their past collaboration at the Metropolitan Opera in 2016, and are sure to bring comparable musical synergy to the Lyric stage. Joining them will be violinist Robert Hanford, concertmaster of the Lyric Opera Orchestra; and mezzo-soprano Jennifer Johnson Cano, herself a frequent artist at the Metropolitan Opera.
Iconic and Electrifying: Netrebko's splendid voice and striking persona have garnered a following from a vast and adoring international audience. The first classical musician to be named one of TIME 100's most influential people, this spectacular soprano is utterly engaging onstage and off. Her glamorous fashion sense, featured performances in the World Cup opening ceremony in Russia last summer and at the Winter Olympics in 2014, and international engagements have made her one of opera's foremost global ambassadors. Her magnetic personality has so captivated her fans that Opera News declared, "They don't call it electricity anymore. They call it Netrebko."
One performance only: Sunday, December 2 at 3:00pm at the Lyric Opera House, 20 N. Wacker Drive, Chicago.
For more information and to order tickets, visit lyricopera.org/AnnaNetrebko or call 312-827-5600. Tickets start at $59.
For information about pre-performance dining options at Lyric, visit lyricopera.org/dining to learn about on-site restaurants, beverage service, and more.