«Yes, man is mortal, but that would be only half the trouble. The worst of it is that he's sometimes unexpectedly mortal — there's the trick!» – Mikhail Bulgakov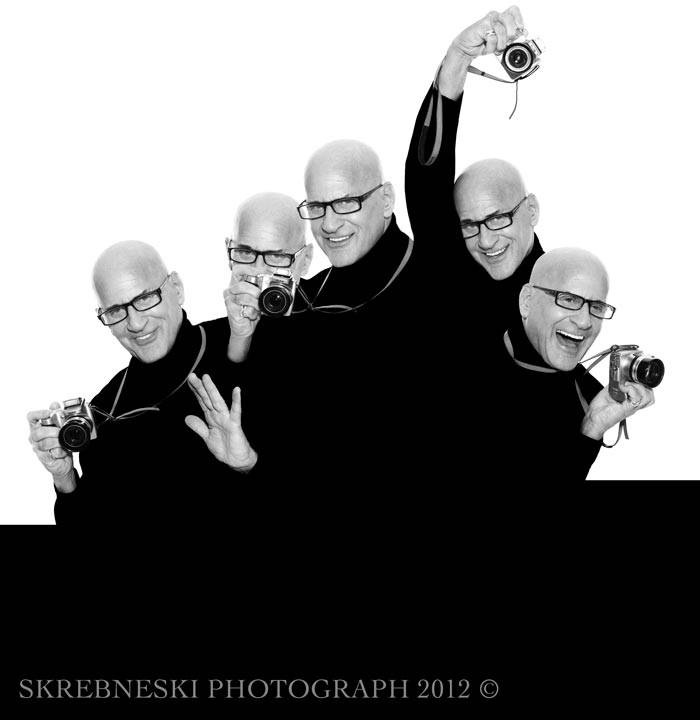 For over a year Steve Starr had been planning the 45th anniversary celebration of his Steve Starr Studios. Titled "The Face of News," it was to be a photo exhibition by Starr of journalist, reporters, broadcasters, columnists and publishers. Steve chose 12-12-12 for the event date, a nod to his previous event which was held on 10-10-10. The magnificent venue, the beautifully restored 1923 Murphy Auditorium, was selected and gradually other pieces started to fall into place. By early fall a talented event committee was hard at work bringing his vision to fruition. Steve thoughtfully selected a "News" host committee which he wanted to be comprised of faces of the news and newsmakers. The event was coming together. Then tragically on 11-12-12, exactly one month prior to his event, we lost our beloved Steve. The news rapidly spread across town and social media as people in shock and disbelief mourned the loss of Chicago's celebrity photographer and a friend to many.
The event planning came to a standstill but not for long. Margaret O'Connor, who had been coordinating the event with Steve, asked his sisters, Adrienne Ingebrigtsen and Bobbi Weiss, what they would like to see happen with Steve's event.  They responded that they wanted the event to continue and Steve's dream fulfilled. Adrienne said Steve had not undertaken a major production since the nineties and he was looking forward to this event being his next big production.
The entire committee was on board and many more people offered to help if needed. "The Face of News" continued on exactly as Steve had envisioned and a tribute and celebration to the life and legacy of a true Chicago icon was added.
The elegant cocktail attire soiree, befitting Steve Starr, became one of the most anticipated and talked about events in Chicago – another wish of Steve's come true. And so it was that on 12-12-12, Steve's dream came to life. The exhibition, showcasing over two hundred of his framed images, began with the "News Hour" VIP reception giving guests the opportunity to mingle with many of broadcasters, publishers, columnists, reporters and journalists featured in the exhibit.
Event host and emcee, Bill Zwecker along with host Candace Jordan, welcomed the guests. The incomparable Stanley Paul was introduced who kicked off the entertainment portion of the evening at the grand piano. A special video presentation of Steve's Art Deco frame collection, complied by Stanley Paul, was shown on a large projection screen. Next, songwriter and vocalist Spider Saloff and The Headliners performed.  Then it was on to the main event at 7:00.  The Clark Kent Greeters and famed 1940's comic strip reporter Brenda Starr, worked the room while well-known illustrator, Rosemary Fanti, created drawings of guests. Videos featuring Steve played on the screen for the duration of the event. One of the evening's most talked about highlights was yet another Steve Starr idea; Steve had asked Mark Roscoe of Mark Roscoe Designs to create newspaper gowns and Loreta Corsetti to design hats. The stunning collection was worn by models hand-picked by Steve and Mark and represented the four women of the world.  Throughout the evening other performers kept attendees entertained.  The evening concluded with, "The Last Dance" a poignant, soulful performance by Tango 21.
The culinary extravaganza, unlike anything I've witnessed before, included more than a dozen of Chicago's premier restaurants, desserts by Delightful Pastries and several others plus signature cocktails by St Claire Vodka. A portrait of Steve,  by internationally renewed photographer, Victor Skrebneski, taken just days before Steve's passing, was on display at the event.
Adrienne Ingebrigtsen and Bobbi Weiss families came to the event and tribute, the Weiss family traveling in from Ohio. Steve's two sisters spoke to the gathered crowd and said, "We are very grateful and want to thank all of you for continuing on with this [event]. He always had big ideas, sometimes too big but we know this is everything he would have wanted. He's with us tonight and he has that big smile on his face."
Sarah Booten, publisher of In Bloom Magazine summed up the night by saying "Steve Starr was a bright shining light in the world. His artistic gift for capturing the essence of the human soul in photography was second to none…"
Margaret J. O'Connor, event co-chair, wrote in her tribute to Steve, "Starrlight, Starr Bright, Wish I may, Wish I might, Have the wish, I wish tonight."
I too, wish that he had been with us. He will continue to live in our hearts through his work, kindness and warmth he showed. It was a true privilege to be asked by Steve to work on his event and then to be asked to be a co-chair. Steve and I saw the world similarly – believing in leaving a positive imprint on this world as our legacy.
(After the event expenses were paid, the remaining proceeds were given to Steve Starr's family to assist with Steve's final expenses).
For information about this event or future events, contact kontinentmedia@gmail.com
—
Leonard Mogul
Photos by Alex Riemann, Jon Recana, Amie Hana
Restaurant sponsors: Carmine's, Dragon Ranch, Gibsons, Mercadito, Mezcalina, Osteria Via Stato, Perennial, Pump Room, RL, Rockit Bar & Grill, 437 Rush, Sunda, Thalia Spice
Dessert sponsors: Carnivale, Delightful Pastries, Maestro Grill, Nonna Santi's Biscotti, RodWall Couture Cupcakes
Beverage Sponsors: Signature Sponsor — ST Claire Vodka. Modelo Especial, Coco Café, Michigan Avenue Magazine, Rock Sake, TR Napa Valley
Media Sponsors: Candid Candace, Ann Gerber, Kontinent Media, Men's Book, Michigan Avenue Magazine, Watch312.com
The "NEWS" host committee was comprised of Chicago's notables: JP Anderson, Sherrill Bodine, John Carroll, DC Crenshaw, Rich Gamble, Ann Gerber, Susan Gohl, Paul Iacono, Walter Jacobson, Candace Jordan, Michael Kutza, Sherren Leigh, Nina Mariano, Lynn McMahan, Irene Michaels, Stanley Paul, Frances Renk, Mark Roscoe, Victor Skrebneski, Jennifer Sutton, Dan Uslan, Rich Varnes, Mamie Walton, Larry Wert, Amy Wimer, Bill Zwecker.
The event committee was led by co-chairs Margaret J O'Connor and Leonard Mogul.